FILDA - Luanda

COMIFRIO, one of the most advanced companies in the food sector was featured for the first time at FILDA (Luanda International Fair).



APAS - S. Paulo

COMIFRIO participated in APAS (São Paulo Association of Supermarkets) in São Paulo, Brazil, where it presented its deep-frozen products, manufactured under strict production and food safety and hygiene methods.



SISAB 2012 - Portugal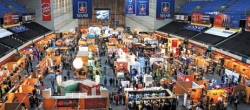 COMIFRIO participated in SISAB (International Exhibition of the Food & Beverages Industry), the largest exhibition for exports in the agri-foodstuffs sector exclusively dedicated to the promotion and dissemination of the best Portugal has to offer.